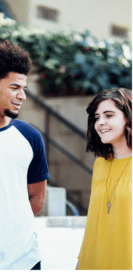 IBD Transition Research
We would like to understand the experiences of patients and their caregivers through the transition from pediatric to adult care.
Join us for a 1-hour online focus group with other patients /or other caregivers or a one-on-one interview.
You will receive a $25 gift card for your time.
Participants in this study must be diagnosed with, or be caregivers for
patients, with one of three conditions:
Inflammatory Bowel Disease
Diabetes
Juvenile Idiopathic Arthritis
For more information visit: Exploring the Transition from Pediatric to Adult Care | Maritime SPOR SUPPORT Unit (spor-maritime-srap.ca)
Contact: Julia.Kontak@nshealth.ca
contact us to participate