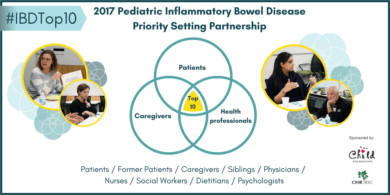 2017 Pediatric Inflammatory Bowel Disease Priority Setting Partnership
#IBDTop10 Reveal:
10. What is the optimal approach to diagnosis (education, psychological support, diagnostic tests) in pediatric patients with IBD?
9. What is the impact of access to psychological/mental health support in the management of pediatric IBD?
8. How does an early diagnosis of IBD in childhood/teenagers impact the lifeling course (prognosis) of the disease?
7. What are the long term effects of medications used to treat IBD?
6. How can we increase the knowledge and/or awareness around pediatric IBD so that diagnosis is not delayed?
5. How can we better define the role of, and improve access to, newer non-invasive, less costly, biomarkers of IBD endoscopic activity?
4. What triggers flare ups in IBD?
3. What role does diet have in the management of IBD?
2. Can IBD be prevented?
1. What are the causes of IBD (Crohn's disease, ulcerative colitis)?
READ THE #IBDTOP10 E-MAGAZINE (English) (Français)!